Manchester has attended MIPIM, one of the world's largest international property market events, since 2000. In this time the Partnership has cemented its reputation as a significant contributor to the week's programme and done untold work in promoting and furthering Greater Manchester's international profile.
This year, the Manchester at MIPIM Partnership is looking to build on the success of 2017; a record year for the Partnership. Last year saw the introduction of the Manchester Pavilion, the city-region's largest and most comprehensive venue yet, together with a new events approach designed to encourage collaboration and debate.
With the scale of developments in Manchester growing exponentially, 2018 is set to be another strong year for the Partnership. To help you keep track, here's everything you need to know about Manchester at MIPIM; the Pavilion, the partners, and the programme.
Where can I find Manchester at MIPIM?
Open from 8am to 11pm, the Manchester Pavilion is home to the Manchester at MIPIM Partnership and will host the entirety of Manchester's events programme over the four days.
Divided into three sections, the Manchester Pavilion contains:
Event space which will host all Manchester events, complete with seating and standing space.
Partner exhibition space which will provide a permanent showcase for Manchester and the Partnership.
The Manchester Café where members of the Partnership can host meetings throughout the day.
You can find the Manchester Pavilion here: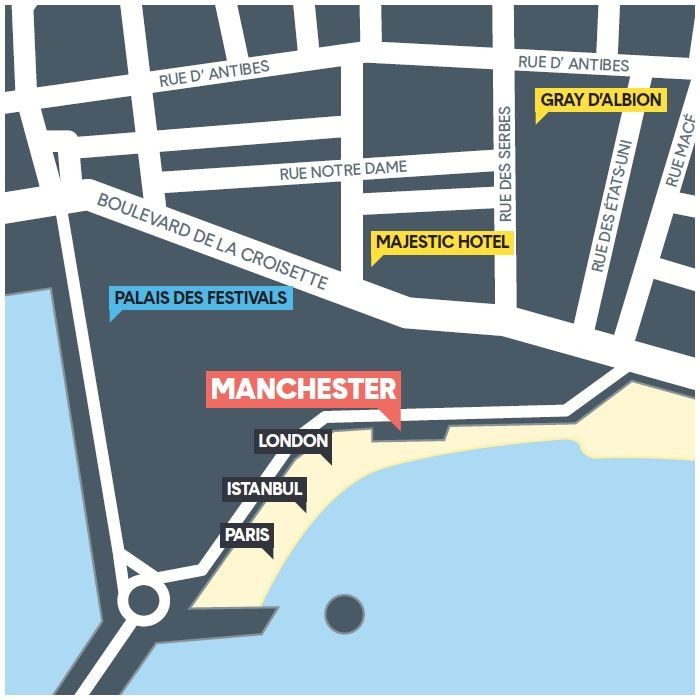 The Manchester Pavilion will be clearly signposted and can be easily accessed from the Croisette.
Who's in the Manchester at MIPIM Partnership?
Manchester at MIPIM 2017 is represented by 108 companies and over 250 delegates - expected to be one of the largest city delegations in attendance at MIPIM.
The full Partnership can be found here: http://manchesteratmipim.com/partners-list.
What are Manchester's main events?
The full events diary is available here: http://manchesteratmipim.com/events-diary.
Following on from a successful introduction in 2017, Manchester's European Breakfast sessions will again welcome leading figures from some of Europe's most exciting growth cities for a series of lively panel discussions. Speakers will include Miguel Pinto Luz, Deputy Mayor of Cascais Municipality, Lisbon; Dr Philipp Bouteiller, Chief Executive at Berlin TXL; Anna Gissler, Chief Executive of Invest Stockholm; Lluis Gomez, Economic Commissioner at City of Barcelona; Øyvind Såtvedt, Managing Director of Oslo Region Alliance; and Rob Van de Velde, Vice Mayor of City of Antwerp.
The regions of Greater Manchester will also be well represented across the week, with Salford, Trafford, Oldham, Bolton and Stockport each speaking at events. On Tuesday at 11:30, The Power of Partnership will explore the huge potential of the combined resources of Salford City Council and the University of Salford around The Crescent – a prime location for homes, work, arts and culture set amongst wide open green spaces & parks - with a University at its heart.
At 11:30 on Wednesday, Changing the Game: The New Old Trafford will provoke a thought leadership discussion around how property is helping to disrupt the higher education sector. The panel will consist of Chris Oglesby, Chief Executive of Bruntwood; Theresa Grant, Chief Executive of Trafford Council; and Gary Neville founder of UA92.
Then later that day at 16:30, a panel hosted by Bolton Council; featuring Andrew Flintoff, director of Logik Developments; will discuss the Bolton Council £1bn masterplan as a major element of wider regeneration ambitions for Greater Manchester's regional towns, including the challenges of meeting future housing need and delivering successful mixed-use developments.
Manchester is also profiling its international investment partnerships with a number of events looking at upcoming developments, including A River Runs Through It – The Northern Gateway Vision, which will look at how the Northern Gateway partnership can harness the natural assets of this huge area to support housing led regeneration focused on health, well-being and connectivity. This session will feature Tom Fenton, Project Director at Far East Consortium and Peter Swift, Managing Partner at Planit-IE.
Abu Dhabi United Group & Manchester City Council will also host an event looking at East Manchester's next chapter; a world leading sports, leisure & entertainment community. Speakers will include Sir Richard Leese, Leader of Manchester City Council and Marty Edelman, Board Member of City Football Group and ADUG strategic advisor.
In Natural Capital, a Green Revolution a panel will discuss how growth in Manchester can target walking and cycling as the primary modes of transport, increasing the health and wellbeing of its citizens. Speakers will include Chris Boardman, Cycling & Walking Commissioner at Greater Manchester Combined Authority; Ed Lister, Managing Partner of Planit-IE; Alex Russell, Managing Director of Property Alliance Group; and Tina Saaby, City Architect for City of Copenhagen.
Northern Tech Powerhouse: What makes Manchester a driving force - moderated by Katie Gallagher, Managing Director of Manchester Digital - will look at what makes Manchester a good place to scale a tech business, existing tech clusters and communities, and the opportunities and challenges of growing a business in the region. The panel will consist of Tom Renn, Managing Director at Manchester Science Partnerships; Nick Chrissos, Director of Innovation, Europe at Cisco Systems; Mike Blake-Crawford, Strategy Director at Social Chain and Will Lewis, Co-Founder at OBI Property; and Adam Warne, Group IT Director at AO.com.
Closing the week's schedule of events, MIPIM Wrap Up: Manchester and London will see the Manchester and London Pavilions join forces for the first time at MIPIM to show that the two cities stand shoulder to shoulder in promoting growth for Great Britain.
What if I'm not at MIPIM this year?
Watch all of Manchester's stand sessions live during MIPIM at: www.manchesteratmipim.com.
Please note that the programme timings are in Cannes time - one hour ahead of UK time. If you're watching live from the UK you'll therefore have to adjust your timings accordingly.
What if I miss an event?
After MIPIM, videos of each session will be posted on the Manchester at MIPIM website: www.manchesteratmipim.com.
How can I get more involved?
To get all the latest during MIPIM, follow us on Twitter @mcrMIPIM and at the hashtag #mcrmipim.
All our blogs, releases and videos can be found at manchesteratmipim.com.
Or just drop by the Manchester Pavilion any time during MIPIM, where our dedicated team can help you find what you need.

See you at MIPIM 2018