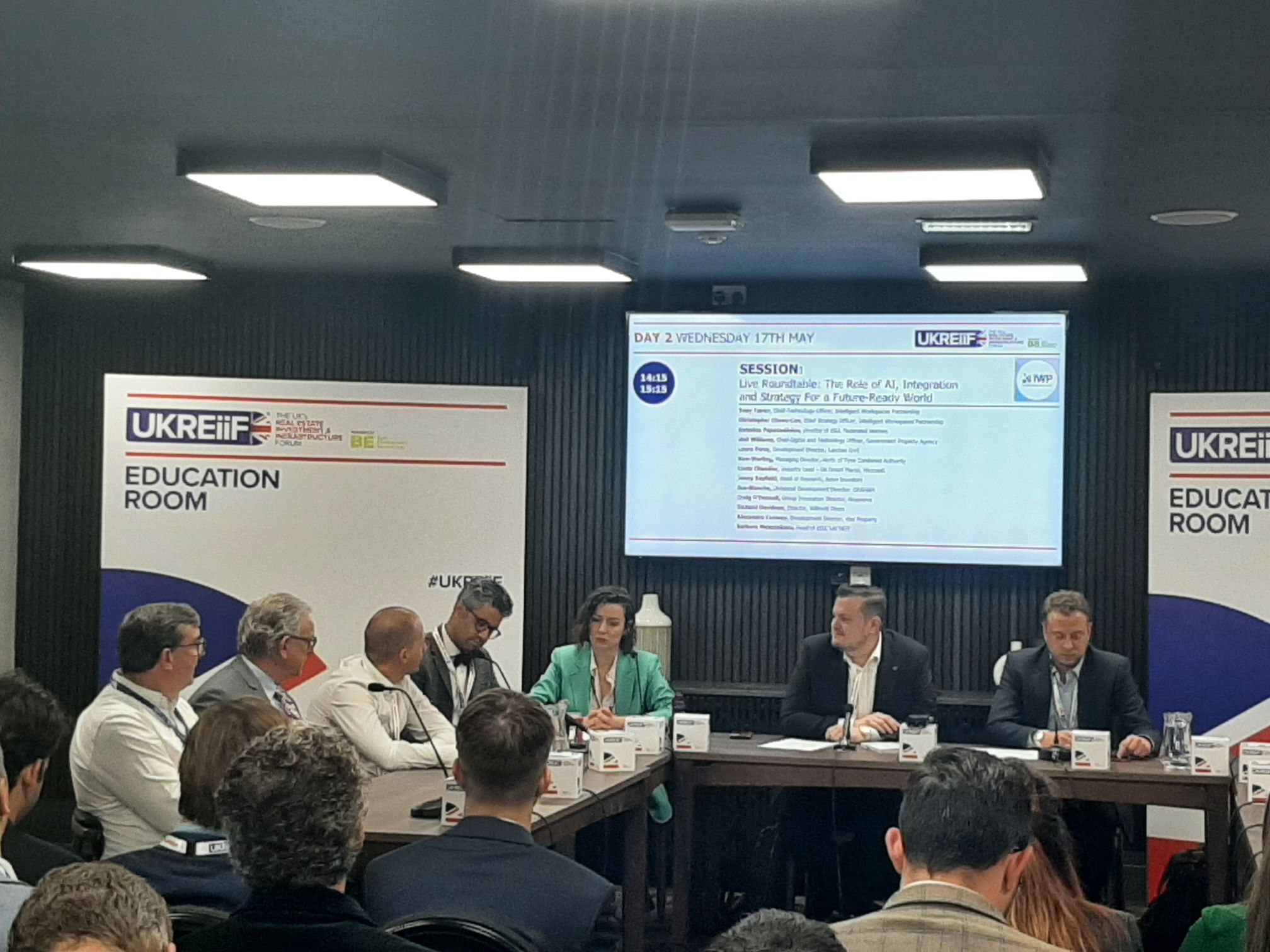 The action at Leeds Docks continued on Wednesday 17 May 2023 as the second day of UKREiiF was in full swing. Once again, the Greater Manchester delegation was busy meeting with partners and networking to fuel further investment and development opportunities across our region.
Of course, we had another busy day with speakers representing the region and partnership across the UKREiiF speaker programme discussing the future of construction, AI, leadership and making announcements that will have huge significance for our city-region.
If you couldn't make the event, here is a roundup of the highlights from day two of Manchester at UKREiiF 2023.
Greater Manchester kicked off Wednesday at UKREiiF at a fringe event held at the Everyman Cinema in Leeds. Becca Heron Strategic Director of Growth & Development at Manchester City Council joined a panel sponsored by Avison Young called "Leadership Matters: The Role of Leaders in Successful City Regeneration". She was joined by leaders from Liverpool Council, North of Tyne Combined Authority, Network Rail, Harworth Group, Avison Young and Capital&Centric.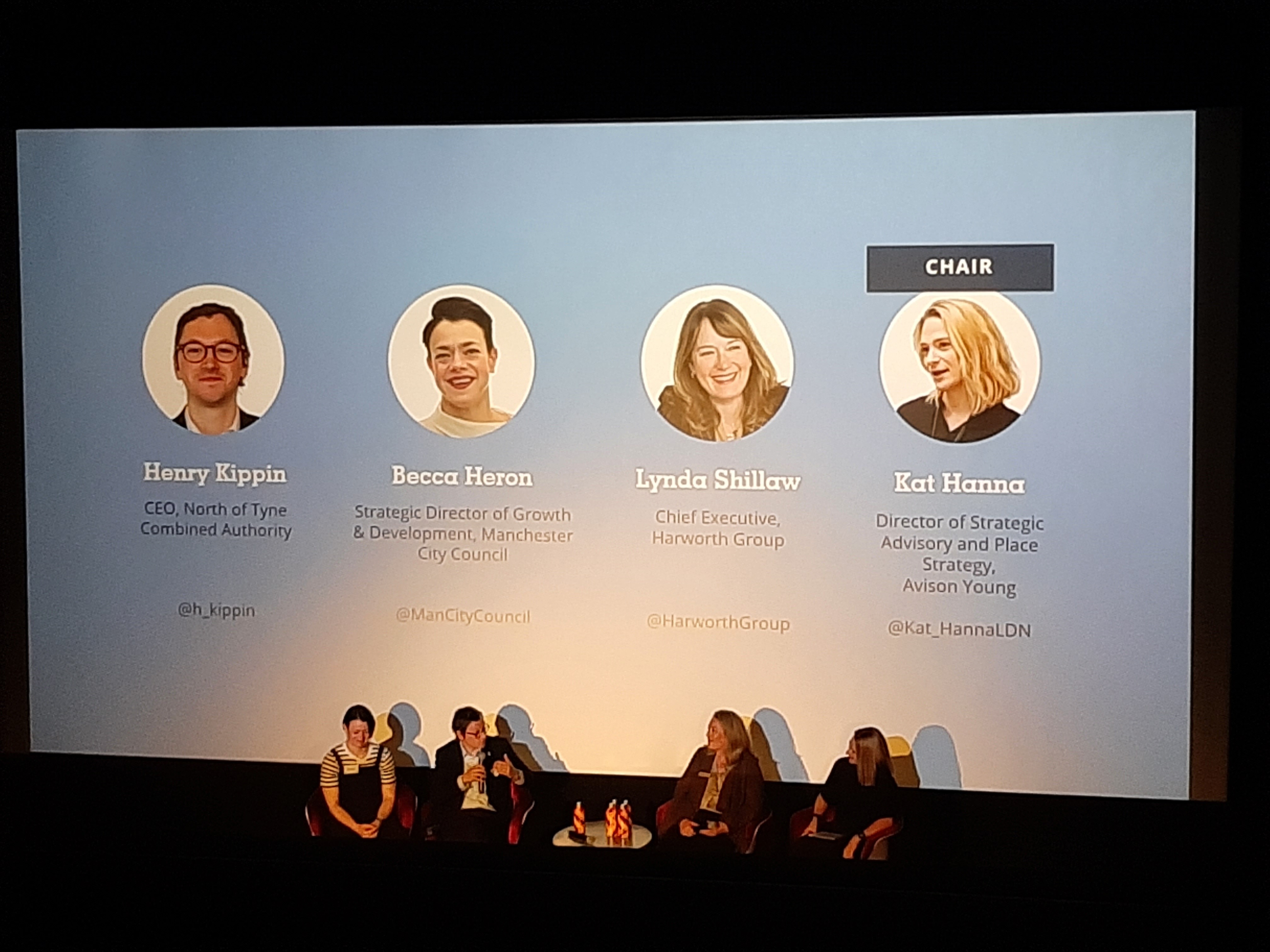 During the breakfast event, Becca Heron said "It's stable political leadership built on a clear strong strategy that really gives Manchester its drive. It doesn't mean we shouldn't review it, Manchester has seen some real successes but it's testing that we close the equality gap and pull every lever possible
"Manchester has got a long track record in place shaping. For a long time, we have very much relied on strategic regeneration frameworks that look at opportunities and challenges in a certain part of the city. The approach we have always taken is devolution is a marathon, not a sprint. This is a test as to how we can deliver by targeting resources to local communities."
Over in the Education Room, Caroline Simpson, Chief Executive of Stockport Council and Martyn Evans Creative Director at U+I represented the Manchester at UKREiiF Partnership in a live roundtable "Putting Heritage at the Heart of Place – Challenges and Benefits."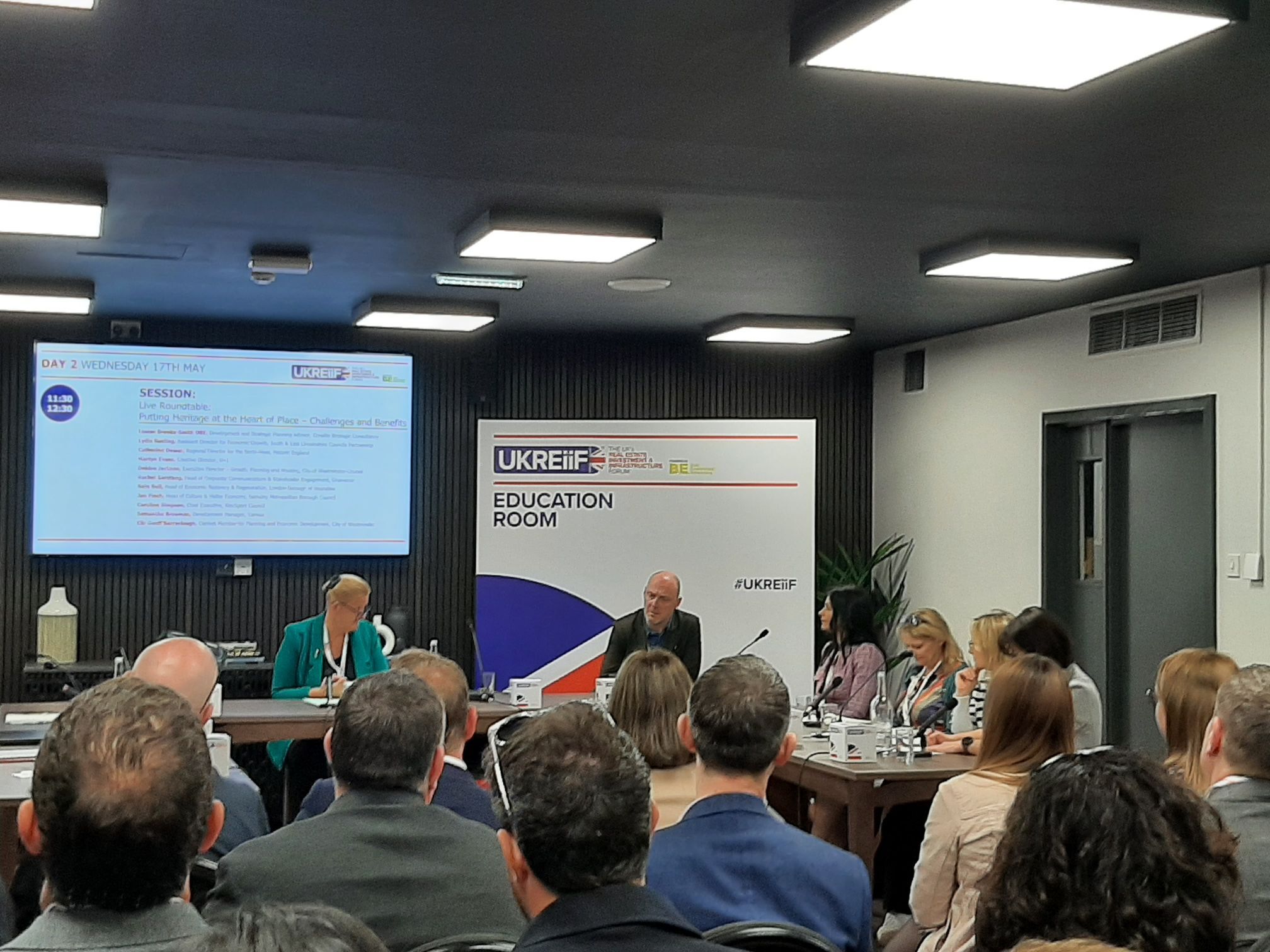 Discussing the role of heritage buildings and the challenges that modern-day regeneration brings Caroline Simpson said "In Stockport, I think there's a difference between the symbolic nature of sensitive issues like statues. There's a distinction between the buildings that are empty that drag down that sense of pride. We shouldn't be worried as a Council, it's our responsibility to think about how we inject new life into these buildings and ensure they don't go to ruin"
Martyn Evans said "This is about pride in place, distinctiveness of place. As guardians of place, it is our fundamental duty to make sure we don't get in the way of that and that it carries on so that in 300 years' time people will be proud of where they're from.
"Looking at the past and understanding how we create its future, I don't see how those two things can be disconnected. "
Then Manchester representatives were included in invite-only events including a Core Cities Lunch, the North West Investor and Developer Facilitation and "Key Cites and Net Zero: Levelling Up, Emissions Down – Leaders Networking Lunch" hosted by JLL which featured John Searle, Strategic Director of Place at Salford Council as a speaker. These invite-only events were exclusively for investors and developers, with the hopes of forging new relationships and connections that can strengthen investment opportunities across the city-region.
The afternoon panel sessions began with "New is Good, But Old is Better – Why Retrofit is Fundamental to Achieving Net Zero" in the Newsroom. Becca Heron, Strategic Director of Growth & Development at Manchester City Council was joined by representatives from Bruntwood, The West Midlands Combined Authority, Place Capital Group, Design for Homes and more to discuss the importance of Retrofit in creating future-proof cities.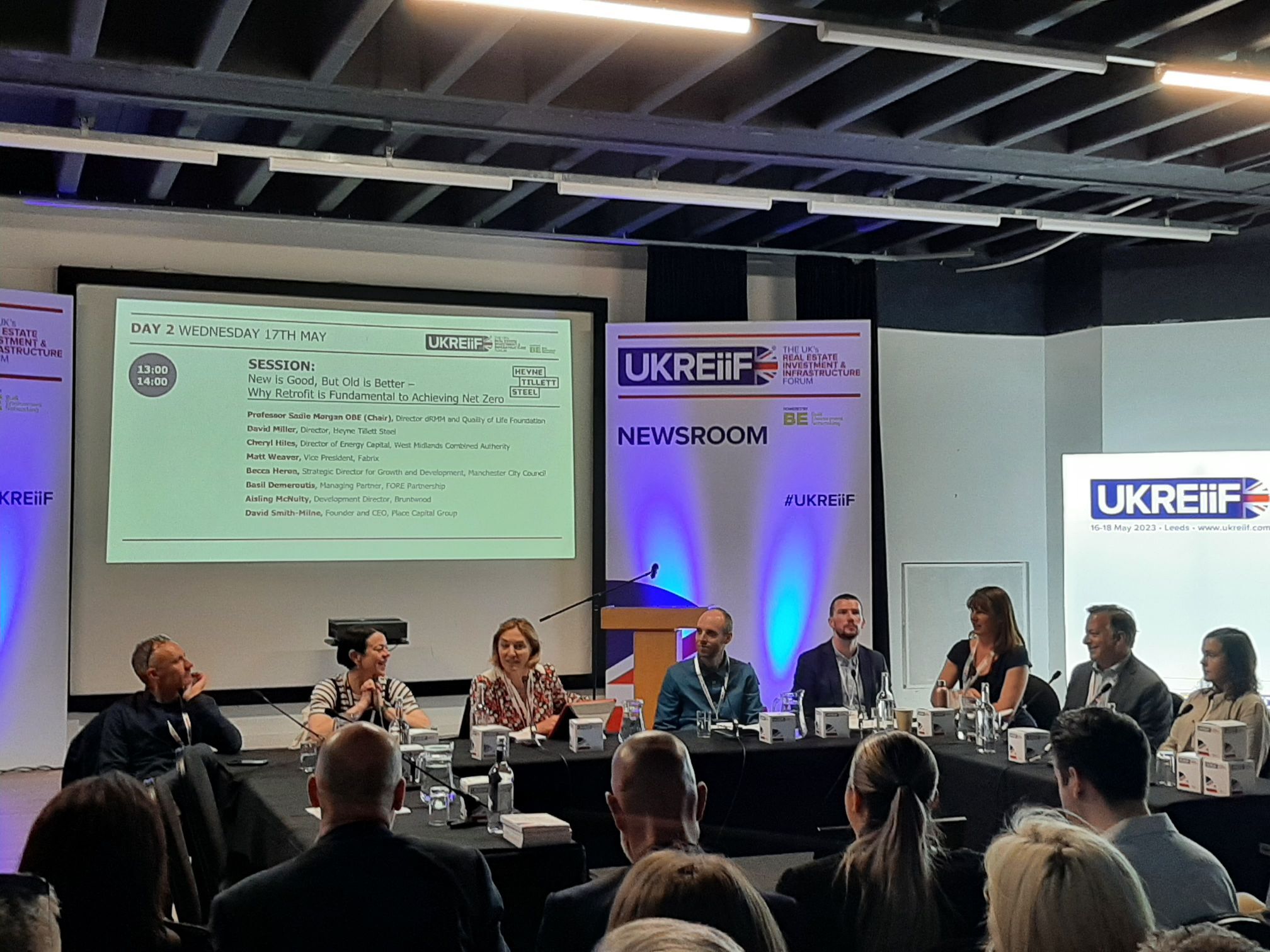 Becca Heron said "For us as a city council, we're on track to meet our net zero by 2038 target. As a city, we are not. We know that our buildings are responsible for 76% of our emissions, we also know that of the property we will have by 2050, 80% of that exists now. It's not an option to knock it all down and start again.
On the question of whether new is bad, new is essential, we don't have enough homes to meet a growing population. There is still a challenge in providing those homes when you meet viability. Unless we're going to see the affordable crisis spiral even further we need to deliver homes. We either see homes we know are not net zero or we don't see homes."
Then, Development Director of Landsec U+I Laura Percy joined a live roundtable "The Role Of Ai, Integration And Strategy For A Future-Ready World". The roundtable discussed how data can be used in the future of placemaking, and both the advantages and limitations that this would cause for communities.
Laura Percy said "The era of moving fast and breaking things is coming to an end. Our business is now looking at this from a responsible development perspective to help us all live the lives we want to live and work in the jobs we want to have. AI will help us all to do that.
"We have a responsibility as an industry to level the playing field slightly. There's a huge area where we can harness data to track our carbon performance. If we could use that to properly analyse gaps so we're all on the same page it will be game-changing."
Next, in the Harworth Regeneration Pavilion, it was a Greater Manchester takeover. Mark Robinson, Director of Economy at Rochdale Borough Council, Jane Healey-Brown Director at Arup, Andrew McIntosh Director of Place at Greater Manchester Combined Authority, Paul Lakin Executive Director of Place at Bury Council and Lynda Shillaw Chief Executive Officer Harworth Group came together to discuss "Shared Success: Rebalancing The Economy In Greater Manchester"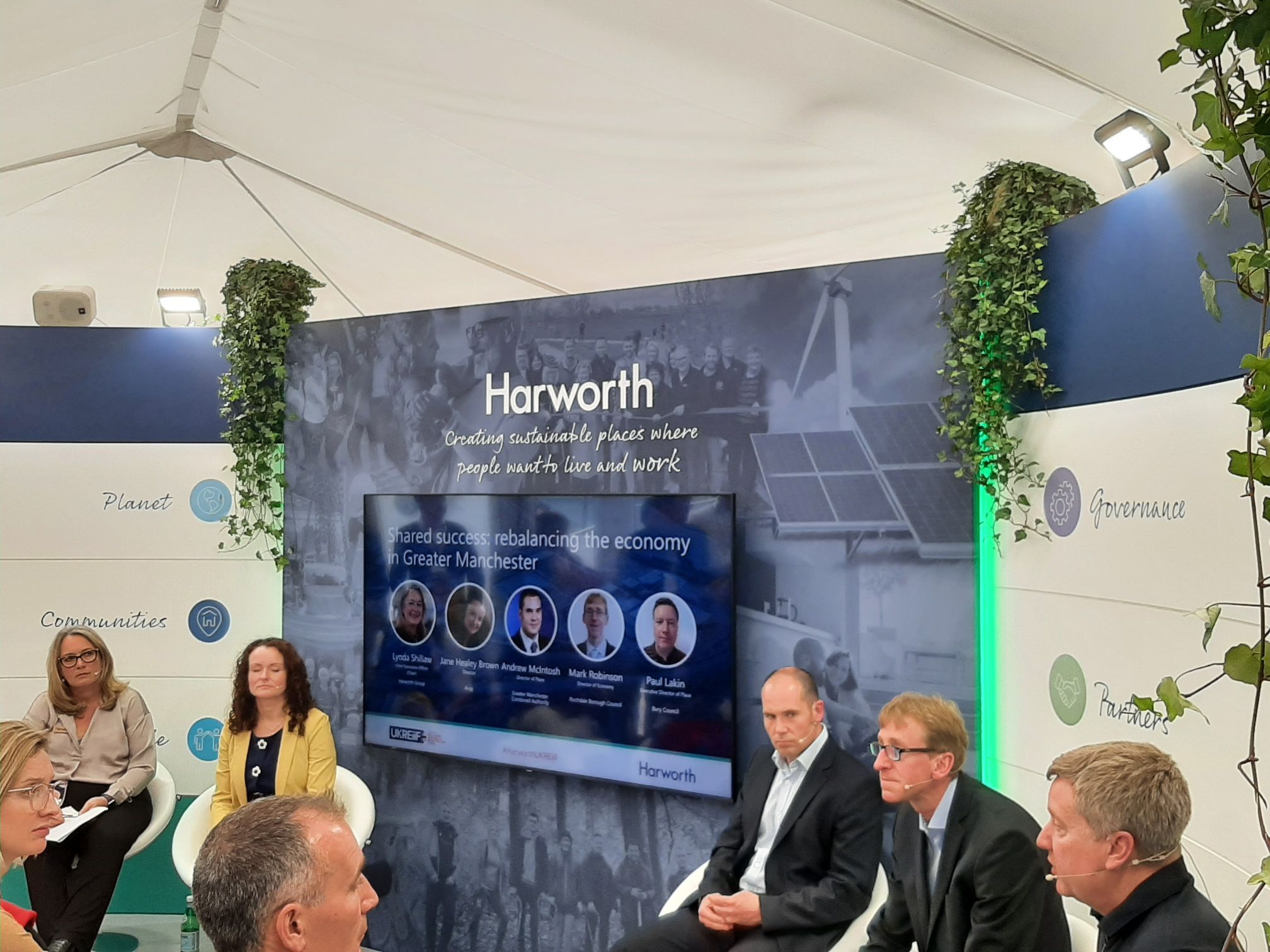 The panel discussed how Manchester is working to create a prosperous economy outside of the city centre through innovation zones like Atom Valley. The panel discussed the advantages the North East Growth Corridor would bring but also the challenges in constructing such a large-scale new infrastructure project.
When asked whether large-scale industrial developments like Atom Valley create barriers to net zero targets, Mark Robinson, Director of Economy at Rochdale Borough Council said "Largely we are talking about an opportunity planned from scratch, thinking about green infrastructure like walking and cycling. On the bigger sites, there are opportunities to futureproof."
On the benefits to local communities, Jane Healey-Brown Director at Arup said "If you have a greener economy, you have a more fair economy. You have better housing, reduced bills and greener transport. This is something we don't often hear but it's very much a Greater Manchester focus. Atom Valley has the scale and the focus to drive through the green economy while being a transformational opportunity."
Andrew McIntosh Director of Place at Greater Manchester Combined Authority said "The public sector having a strategic plan for an area will encourage investment over the long term. The demonstrations are there of how smaller public sector investment can unlock more public sector investment. It's about the reasonable returns you can make and creating the programme that enables that to come forward."
Paul Lakin Executive Director of Place at Bury Council said "All of us on Northern Gateway have got a responsibility to think about the movement of people to and from work. There's the opportunity to think about how industrial areas aren't segregated but contain infrastructure for walking, planting and energy generation. There's not one magic solution, but some of it comes from thinking differently about what industrial locations look like in the 2020s onwards.
"There is often a lot of competition between neighbouring local authorities but the truth is, the stronger your neighbours are the more opportunities for you and your people. That's part of the sauce of Greater Manchester."
Over on the Cinema stage, it was time for a huge announcement from Stockport. Caroline Simpson, Chief Executive of Stockport Council was joined by Lord Bob Kerslake, Chair of Stockport Mayoral Development Corporation and Daniel Whelan Senior Reporter at Place North West to announce the Joint Venture Partner for Stockport8, English Cities Fund.
Having launched their search at UKREiiF 2022, Stockport used their return to UKREiiF to announce the joint venture partner for Stockport8 – a new neighbourhood which will create up to 1200 new homes at the heart of Stockport's Town Centre West and the single largest development opportunity within the Town Centre West masterplan.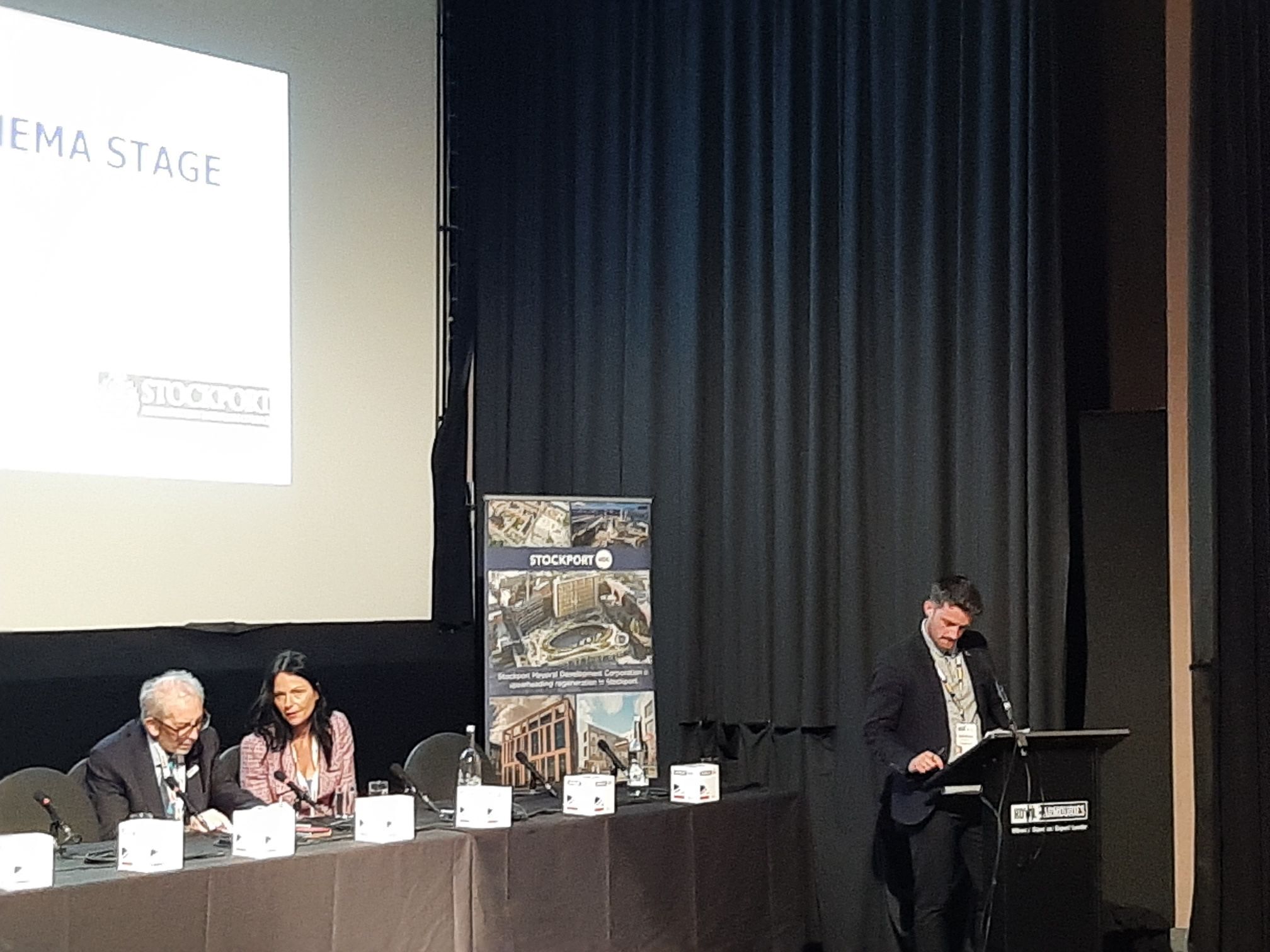 Caroline Simpson said "We've reinvented many of our beautiful heritage buildings that have many new uses today. We've focused on green spaces and public spaces and alongside our partners in Muse, we've created a whole new workspace and developed the south Manchester office market.
Change is only going to happen when we bring our communities on board. All that development is bearing fruit in terms of people using it, people owning it and baring pride."
Lord Bob Kerslake said "We are today going to announce a new chapter in the Stockport story. It's a new part of Stockport. The people we have chosen, we've chosen because of their long-term commitment and vision. This is a long-term investment."
At the same time in the Wellington Suite, Bryony Carter Neighbourhood Officer at Manchester City Council joined the panel "Is Everything You Thought About Consultation Wrong?".
Also at the same time, two Manchester at UKREiiF Partners Civic Engineers and Hawkins Brown were in the Newsroom discussing "Designing From District to Doorknob – The Realities of Delivering Net Zero at Every Level." Stephen O'Malley Chief Executive of Civic Engineers and Ewan Graham, Partner at Hawkins\Brown Architects discussed sustainable development and implementing net zero at every stage.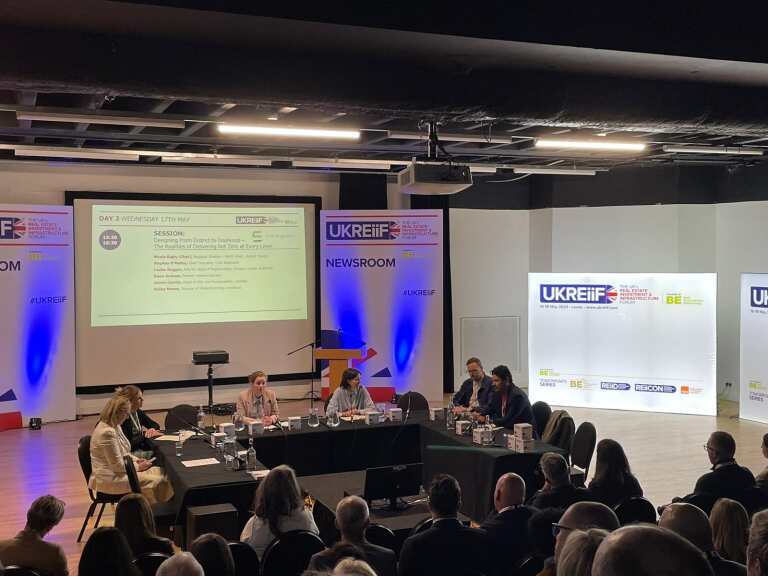 Finally, to round off a busy day for the Greater Manchester delegation at UKREiiF, Civic Engineers hosted their 10th Birthday party. The company was originally founded in Manchester and now with a team of over 150 across studios in Glasgow, London and Leeds, the practice is celebrating 10 years of being known as Civic Engineers. Set up with funding from The Growth Company, it seems apt that the long-standing relationship with the city continues.

To view the sessions that the Greater Manchester delegation will take part in during the third and final day of UKREiiF 2023, view our programme summary.
Keep an eye on @MCRMIPIM on Twitter for live updates from the event.