On Tuesday 16 May 2023, 8,000+ attendees returned to Leeds Docks for UKREiiF, the UK's Real Estate Investment and Infrastructure conference. Now in its second year, this three-day event aims to bring together every core UK city region with public sector representatives, Government, investors, funders, developers, housebuilders and more to discuss real issues surrounding development and investment within each region. It's also an opportunity for each city region to showcase the scale of their development ambitions and introduce future investment opportunities to a relevant audience.
Once again, Greater Manchester is taking over The Canary for the duration of UKREiiF, a unique events space in the heart of Leeds Dock. This year, we are sharing the space in collaboration with Opportunity London, providing space for two of the UK's leading cities to meet, network and facilitate collaboration across the public and private sectors.
Our Manchester at UKREiiF partners will have full access to the space throughout the event, allowing them to facilitate meetings and begin conversations that will shape the future of our region.
Throughout the first day of the conference, speakers from across Greater Manchester had a strong presence across the UKREiiF programme, featuring panels, roundtables and discussions covering a huge range of topics from transport to sustainability.
If you couldn't make the event, here is a roundup of the highlights from day one of Manchester at UKREiiF 2023.
We began the day with a welcome breakfast for the Manchester at UKREiiF partnership alongside London's delegation. Welcoming the delegation Bev Craig, Leader of Manchester City Council said, "We couldn't think of a better partnership than having Greater Manchester and London side by side. From my perspective it sends a really strong message in a time when we need economic certainty, we're the cities that can make that happen.
"It's a really exciting time to be involved in Manchester and Greater Manchester. As a city, we obviously have strong social connections. We don't just want growth we want good growth. We want long-term partners that will benefit our communities."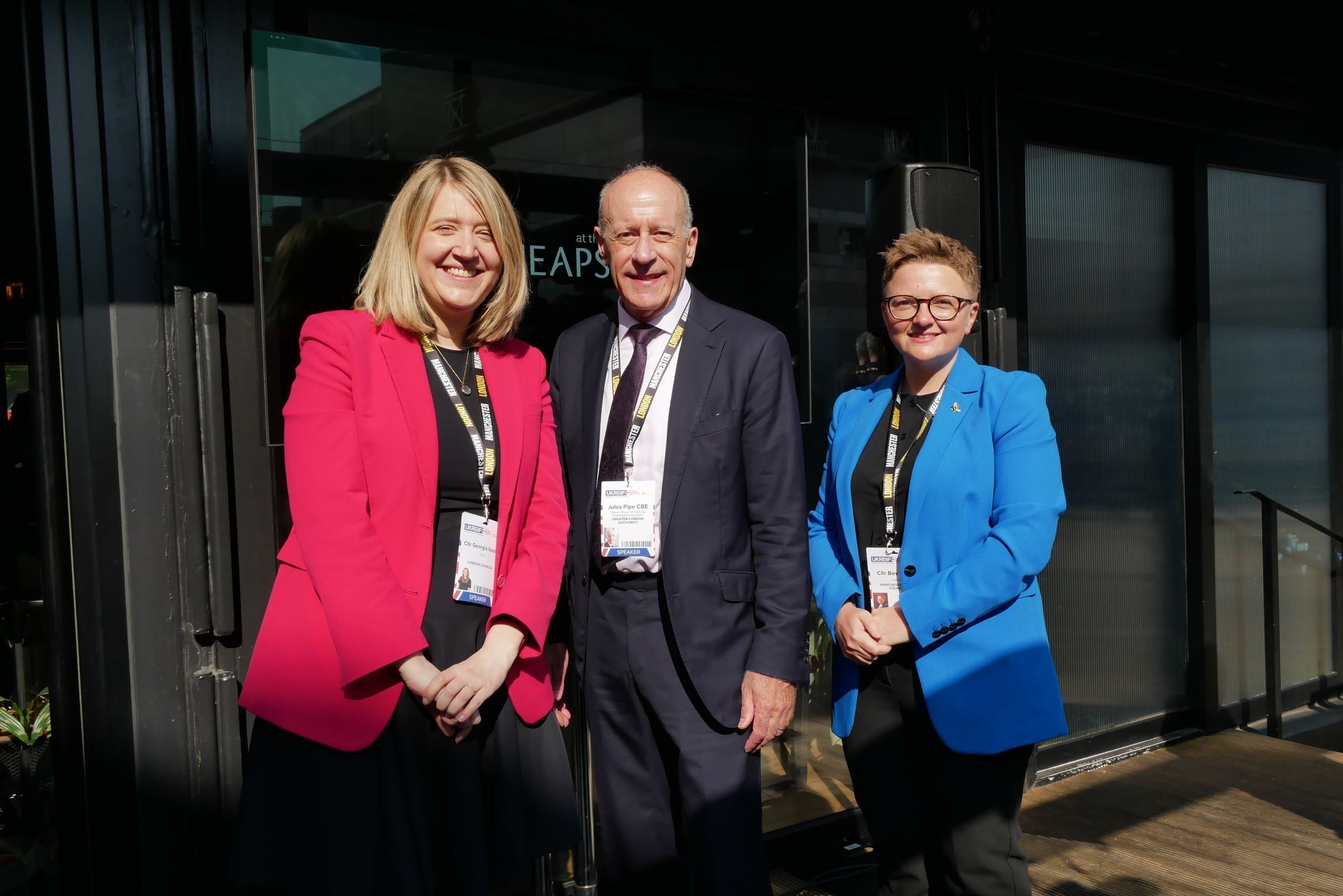 In the first panel of the day, Tom Stannard Chief Executive of Salford City Council discussed Going Beyond Net Zero – Key Steps for Investible, Clean Growth. Joined by representatives from CBRE, Rivington Hark, Argent, Greater London Authority and Bristol City Region the panel discussed.
Tom Stannard said "Political will, important though it is not sufficient in isolation. This stuff is expensive and it requires local authorities that will create long-term partnerships to reach net zero.
It is crucial (and it is long neglected by governments of all colours) that we underutilised the current talent in the Labour market. We've got to make adult education fashionable again very much focused on these transitions."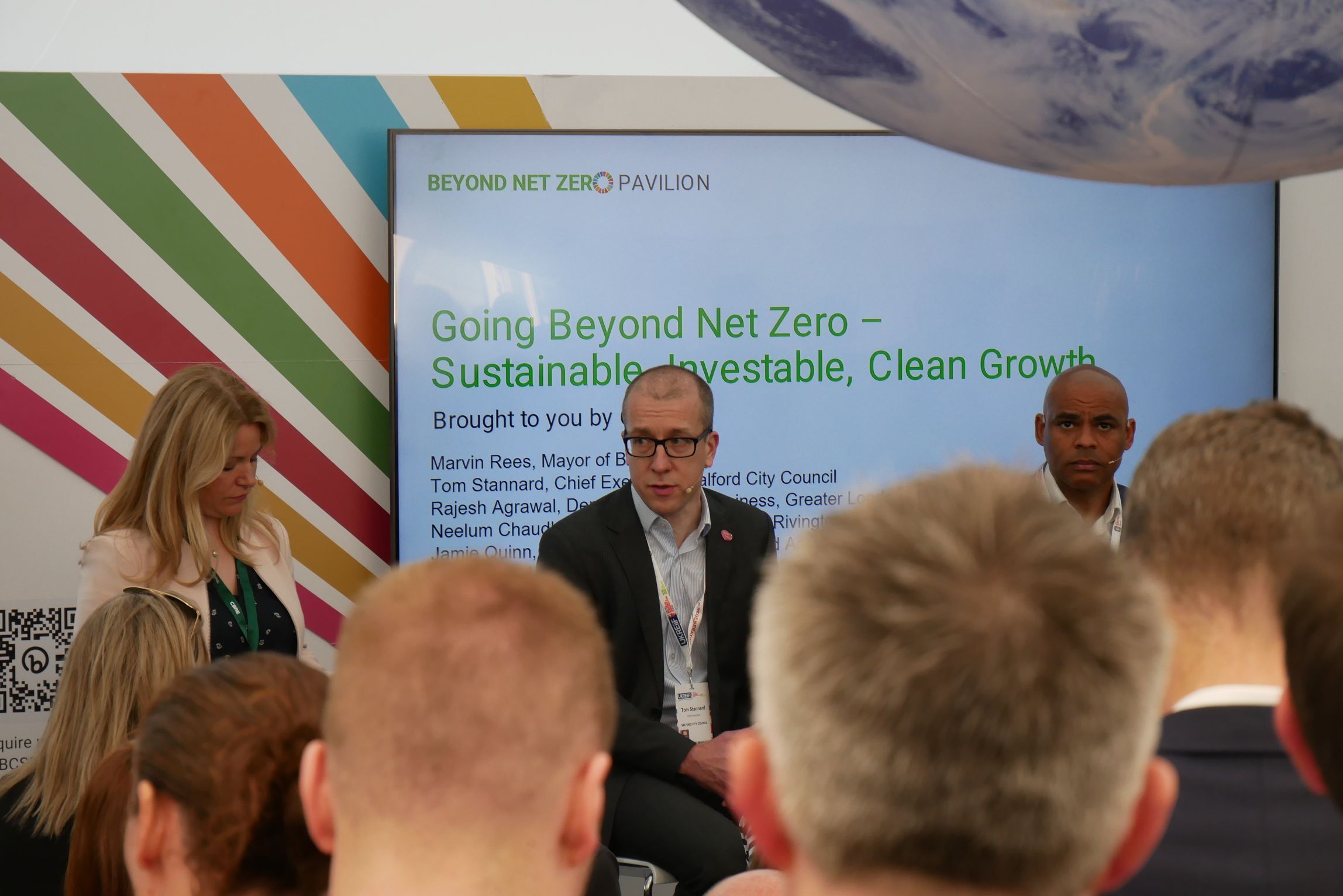 Then it was all eyes on Atom Valley as Andy Burnham Mayor of Greater Manchester, Paul Ormerod Chair of the Atom Valley Board, Julia Heap Principal of Hopwood Hall College and University Centre, Eamonn O'Brien Leader of Bury Council and Ilona Alcock Director of Elevate hosted a dedicated session "Atom Valley, Making a better tomorrow."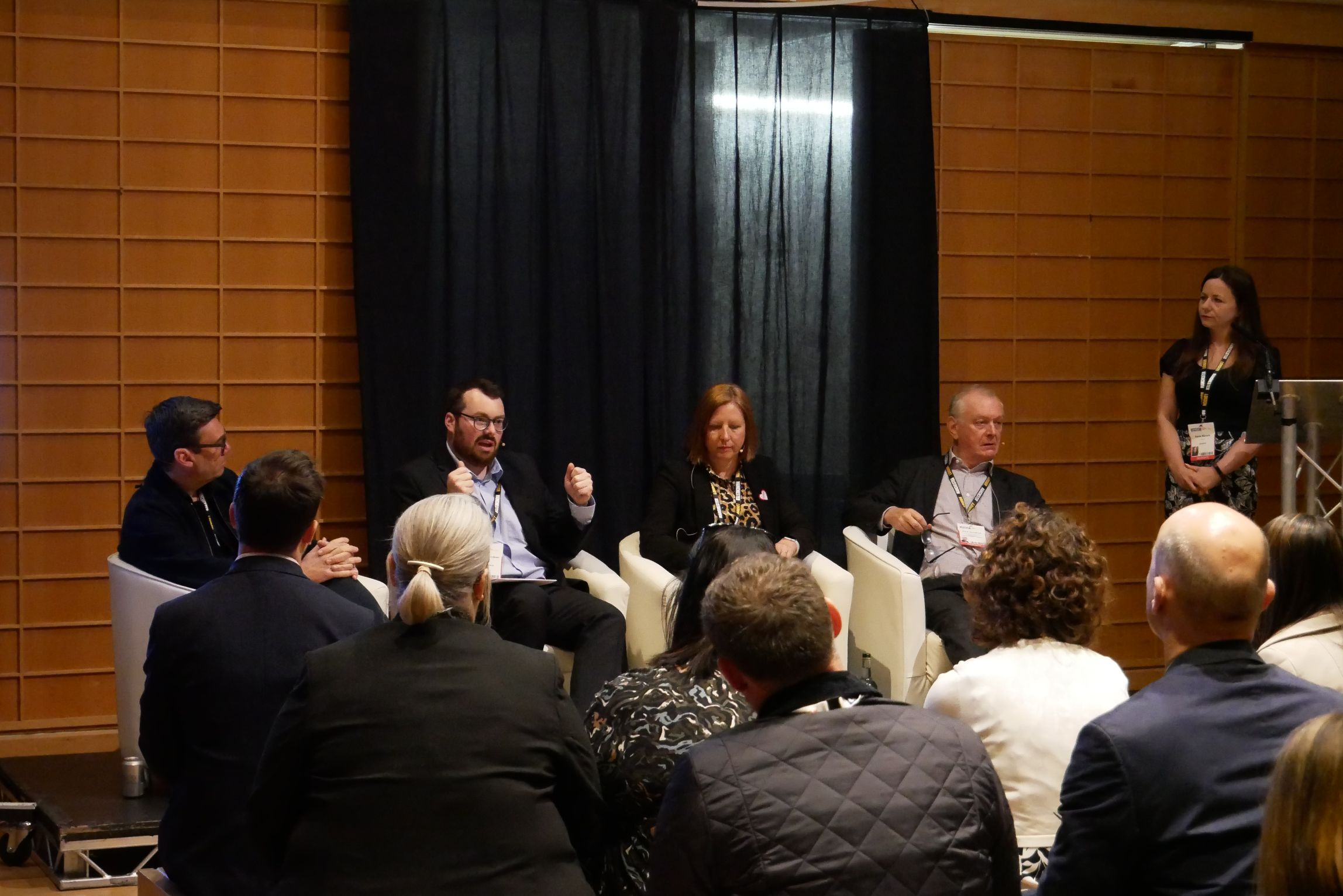 During the session, Andy Burnham said "We are entering a new phase where we can really move up as a city region in every respect. We become world-class by making use of all the talent across Greater Manchester.
"If you cluster world-class names and entities in a single location you create something of international significance and create GVA. Atom Valley will become the next chapter in building the 21st-century economy for Greater Manchester."
Paul Ormerod said "Atom Valley is a great example of the benefits of devolution. The main thing is, if a major investor is interested in Atom Valley, there's a single port of entry which is a really great advantage
"Creating a mega cluster is particularly important. Firms that are in clusters are 140% more productive than firms that are not. The success of Atom Valley will enhance the success of other boroughs."
Eamonn O'Brien said "It's exciting, it's fascinating, it's going to create new industries and lives for people but how do we connect them to it? This is why Andy Burnham's priority around transport is so important. We have to start thinking now about how the areas around the site, which are some of the poorest in Greater Manchester can access it. We have to plan solutions into this site and prioritise inclusive growth."
HPARK is a brand new commercial development providing 1.45m sq ft of industrial and logistics space in Heywood Greater Manchester. The first major new commercial development being brought forward within the Atom Valley MDZ, HPARK has the potential to support 2,400 high quality new jobs. Manchester @ UKREiiF partner Russell LDP is managing the development. Learn more.
Then, over on the Sustainable Futures Pavilion, Simon Warburton Transport Strategy Director at Transport for Greater Manchester joined representatives from Atkins to discuss "The Road to Nowhere - Joining Up Remote Economies" to discuss the importance of transport infrastructure in connecting people to opportunity.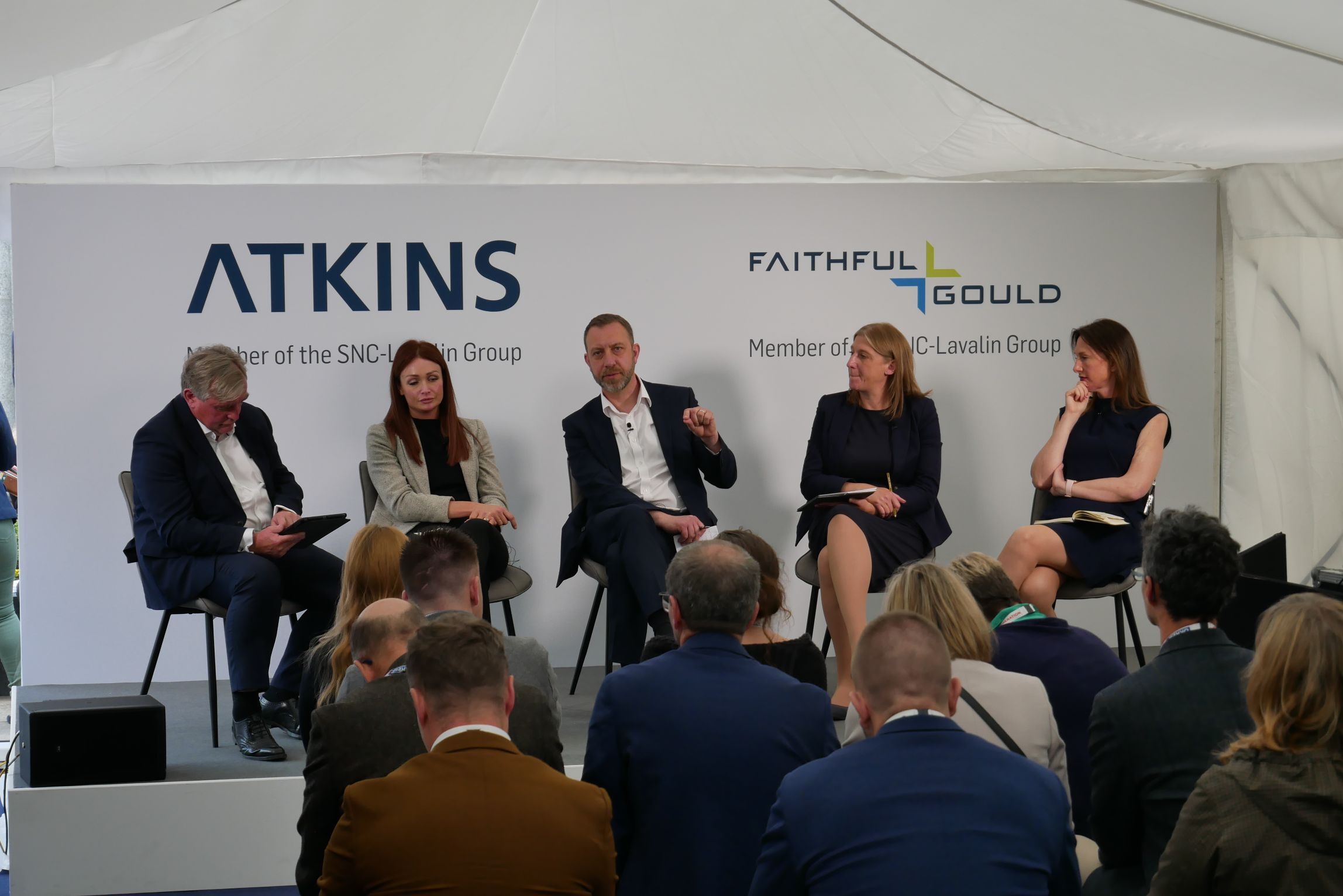 In the Bury Theatre, the transport theme continued with Mayor of Greater Manchester Andy Burnham joining a discussion called "Transforming Transport and Futureproofing Infrastructure – Connecting Places, People and Business While Creating World Class Places To Live".
During the discussion, Andy Burnham talked about Manchester's ambitions to create an integrated, sustainable London-style transport system, The Bee Network. During the discussion, he accepted this came with challenges saying, "In the North, people's behavioural patterns are really fixed. We've got a big job on our hands to say to people 'We want you to move differently'"
Meanwhile, on the Invest Newcastle Pavilion, Bev Craig, Leader of Manchester City Council joined Mayor of Liverpool City Region Steve Rotheram, Sheena Ramsey Chief Executive of Gateshead Council, Nick Kemp Leader of Newcastle City Council and Henry Kippin, Managing Director of North of Tyne Combined Authority to discuss devolution.
In the panel "Making Devolution Work for People and Places" Bev Craig was asked what the secret to successful devolution involved, she said "There has to be something really fundamental about knowing what your narrative and story is. In Manchester, we made an ambitious plan to diversify our economy. To own your vision and what you're known for, and not be afraid in articulating that vision and what you want to achieve.
"Intentionality can always translate into how and where you find your partners. As long as you're rooted in who you're growing for and why, you can find partners that benefit outside of boundaries."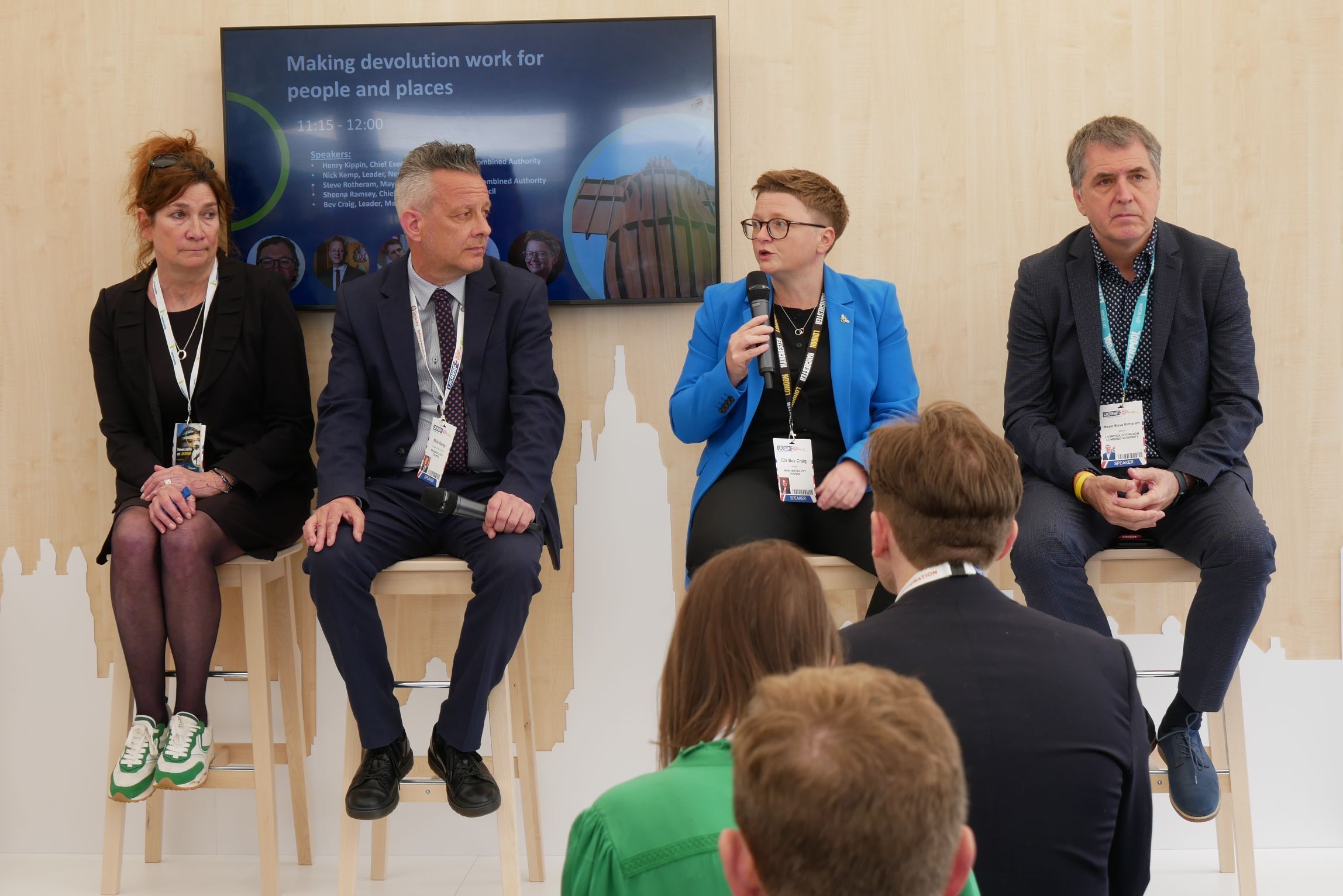 Next, Director of Place at Wigan Council Aidan Thatcher joined a live roundtable "Creating Better Places and Environments for Work". During this session, Aidan Thatcher announced that one of Wigan's most iconic town centre buildings is set for a new lease of life. In news announced today, Capital&Centric and Wigan Council are set to restore the Civic Centre to create standout, design-led offices in Greater Manchester's towns, providing a cost-effective alternative to a city centre base.
Aidan Thatcher said "It's critical to retain your talent. You need to invest in education and skills but beyond that, if people want to be entrepreneurial you have to provide spaces where they can be successful, which is what we're trying to do with the civic centre."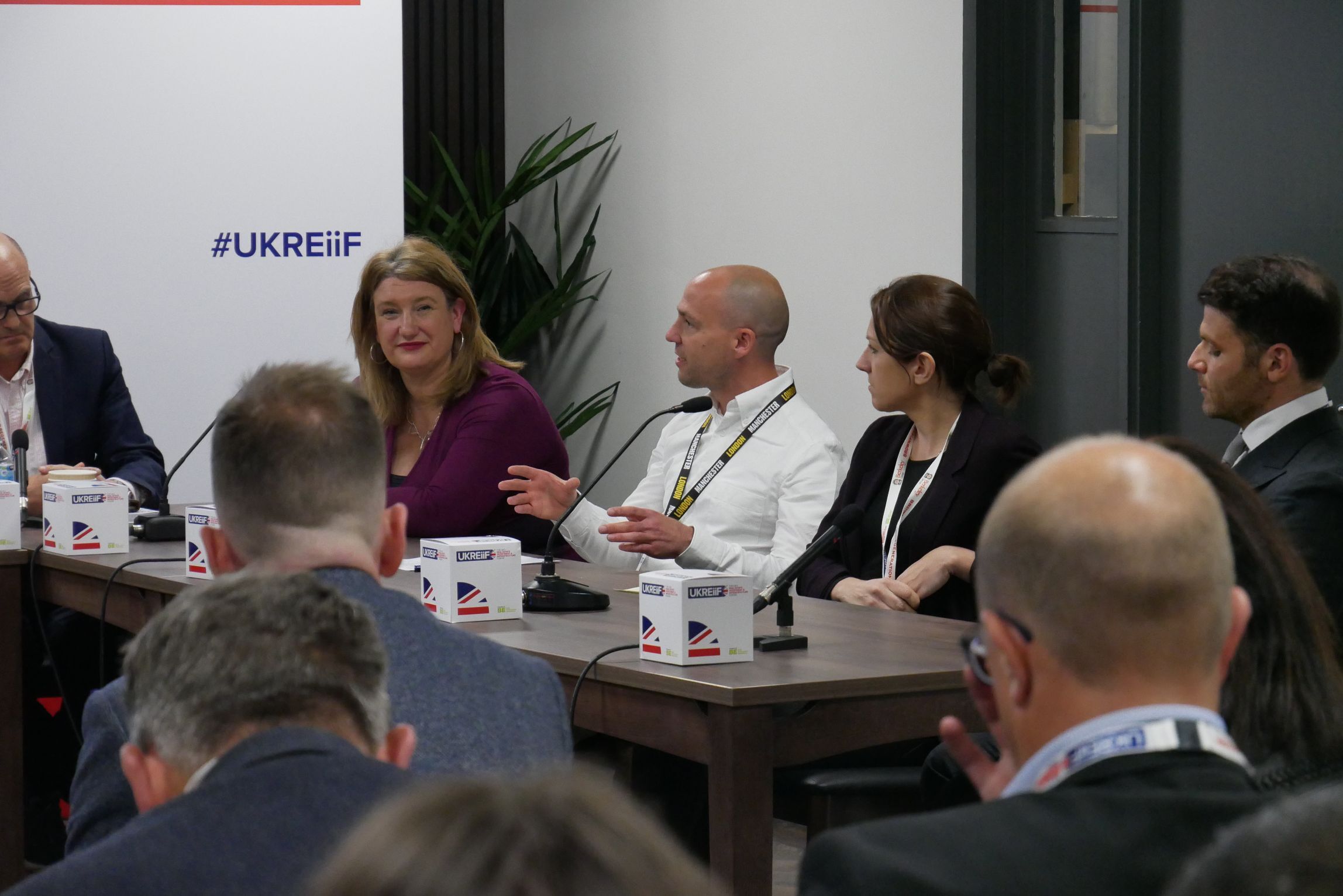 Then it was time for Bury and Tameside to take centre stage as Paul Lakin Executive Director of Place at Bolton Council and Julian Jackson Director of Place at Tameside Council joined "Levelling Up Through Leveraging Heritage Assets." In the panel joined by representatives from the Monastery Manchester, Place Capital Group, the UK Government Property Agency and Fourth Street, the directors of Place discussed the importance of heritage buildings to communities and the challenges that come with refurbishing them.
Paul Lakin said "The risks are still all there. If we put up a new build proposal we can have cost certainty. When you're dealing with a Heritage building you can do an assessment of the condition of the building but you don't know. You have to present your case as to why this is the preferred option for communities and it's a challenge."
Tom Stannard, Chief Exec of Salford City Council then returned to the stage to discuss "The Future of Construction" while Bev Craig joined local leaders from across the country to discuss "The UK on the Global Stage – Sharing International Ideas for Regeneration and Economic Growth".
In "The Future of Construction" Tom Stannard discussed the role of data in the future of construction, the challenges that will come with reaching net zero and of course, the issue of viability.
In "The UK on the Global Stage – Sharing International Ideas for Regeneration and Economic Growth" Bev Craig was asked about whether the UK was seeing a decline in international investment amid political uncertainty. She said "Manchester articulates the stability of our own region and the sector strengths we already have. We're bucking that very pessimistic trend with developments like Mayfield, Gorton Town Centre, Victoria North and Atom Valley. Sure, there are challenges there but we also need to be careful not to talk ourselves down, or what will international investors think of us?
"There's a broader point when we talk about the purpose and why we want international investment. Making that investment connect with local people means getting people behind your narrative and getting people to be proud of your big schemes. You create a place that people in your town and city feel like they own, a place where people are seeing those social connections and their kids are getting jobs then you get that buy-in."
Finally, to end the day's panel sessions, Eamonn Boylan Chief Executive of Greater Manchester Combined Authority joined "The Power of Road and Rail Infrastructure to Unlock Regeneration" over on the Harworth Regeneration Pavillion, hosted by Manchester at UKREiiF Partner The Harworth Group.
In the panel, Eamonn was joined by representatives from Harworth Group, Chesterfield Borough Council, Network Rail and National Highways to discuss the role of transport and infrastructure in the regeneration of towns, cities and rural communities. The panel discussed the challenges and frustrations faced in long-term infrastructure projects.
Eamonn Boylan said "We've got to recognise the complexities and try and make certain that there is a shared set of objectives, spatial as well as thematic and we use the tools available to us to deliver those objectives
"You can engage in regeneration programmes over a longer period provided you are consistent and clear over what you're trying to do."
The day ended with a well-earned drinks reception at The Canary to celebrate the Manchester at UKREiIF partnership with Opportunity London and two of the UK's leading cities coming together.
Andy Burnham Mayor of Greater Manchester said "This is a new era of cooperation. It's great to be putting on a united front with London at UKREiIF. The country is ready to come together and make change happen. The country is at its best when it works together and as the two biggest city regions, we've got a lot to offer when we work together.
Here are some more images from day one of UKREiiF 2023.