First Phase of £200m Eckersley Mills Transformation Begins
Wigan MP Lisa Nandy has officially marked the start of work on the first phase of the Heaton Group's ambitious transformation of Eckersley Mills.
Plans to turn the grade two-listed Wigan mill into a food hall and offices were approved by Wigan Council in January.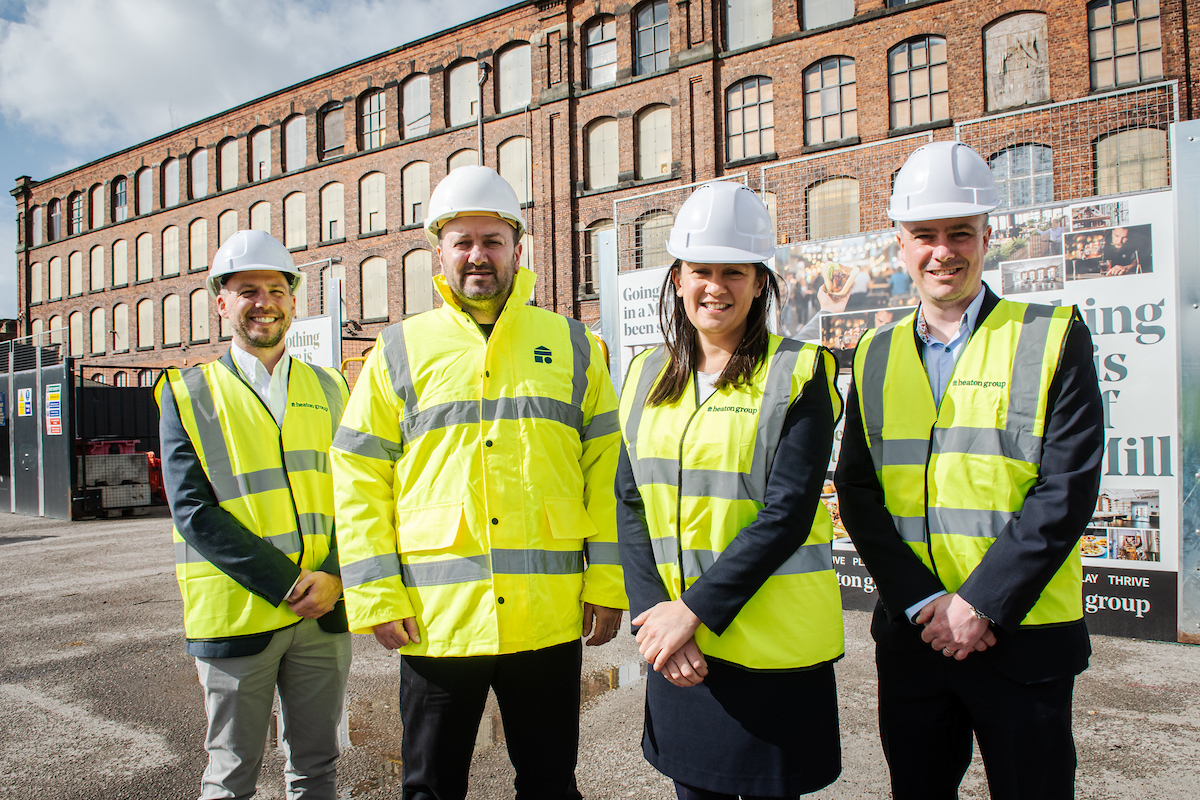 The regeneration specialists are carrying out a sensitive conversion of Mill One at Eckersley Mills and aim to transform it into a thriving complex that is perfect for 21st-century work.
After meeting apprentices and staff the MP viewed the plans, took a tour of the site and took part in a ceremony to mark the start of work.
The ground floor is being converted into a 22,000 sq ft micro-brewery and food hall, featuring a series of individual stalls. The upper three floors of the mill will be used for offices, including the Heaton Group's headquarters.
The scheme, which has been welcomed by Historic England, will create close to 80,000 s. ft of office space and will be home to almost 400 jobs. The ambitious plan includes a rooftop extension, providing additional work and events space.
Lisa Nandy said: "It is great to see a part of Wigan's heritage being saved – by a Wigan family business — with such an exciting and ambitious scheme.
"It's important that we do what we can to bring new life to these historic buildings. What the Heaton Group is planning is really putting Wigan on the map. I am looking forward to seeing how work progresses."
Managing Director John Heaton says: "As a Wigan business Eckersley Mills means a lot to us. It has been neglected and suffered from a lack of investment so bringing life back to the mills is a positive, but it has to be done right. Our plans will save as much of the mills as we can, create jobs and attract new businesses into the town."
The plan represents the first phase of a wider £200 million masterplan for the 17-acre site. A planning application to restore Mill Three and create 137 apartments is currently being considered. The Heaton Group is also exploring plans to develop a purpose-built industrial estate close to the Eckersley Mills site where it will accommodate as many of the existing tenants as possible.
Close to Wigan town centre, the 17-acre site is one of the largest undeveloped brownfield sites in the North West. Eckersley Mills was once the largest cotton-producing site in the region and contains a group of buildings, which were built between 1883 and 1920.
For more than 50 years The Heaton Group, which is based on Wallgate in Wigan, has built its name by delivering residential developments across the North West of England. Current projects include The Exchange and Bishopgate Gardens, both in Preston and Urban Green in Trafford.
Learn more about Wigan's current opportunities and bold vision here.