Salford Council and English Cities Fund are creating the blueprint for sustainable office spaces of the future with Eden at New Bailey.
Currently, UK buildings represent 40% of carbon emissions and so, future development must be designed to address this if we are to reach net-zero targets which is why sustainable development is so crucial.
Greater Manchester has a target to become net-zero by 2038, and Salford Council is leading the way in sustainable development with Eden at New Bailey.
New Bailey is already a vibrant business hub in Salford, steps away from Manchester city centre. As a combined effort between English Cities Fund (a joint venture between Muse Developments, Legal & General and Homes England) and Salford City Council, New Bailey is a prime example of how the public and private sectors can collaborate to shape the future of placemaking.
Development in New Bailey has already attracted numerous blue-chip occupiers including BT, Sainsbury's and Eversheds Sutherland. As a mixed-use development with popular restaurants as well as 700,000 sq ft of office space, New Bailey is a prime example of Salford's placemaking, creating a desirable neighbourhood and community which has become an extension of Manchester city centre.
Now, the development of Eden at New Bailey recognises the urgent need for sustainable development and carbon-efficient office spaces with a laser focus on the environmental impact from the very beginnings of the project through to final use.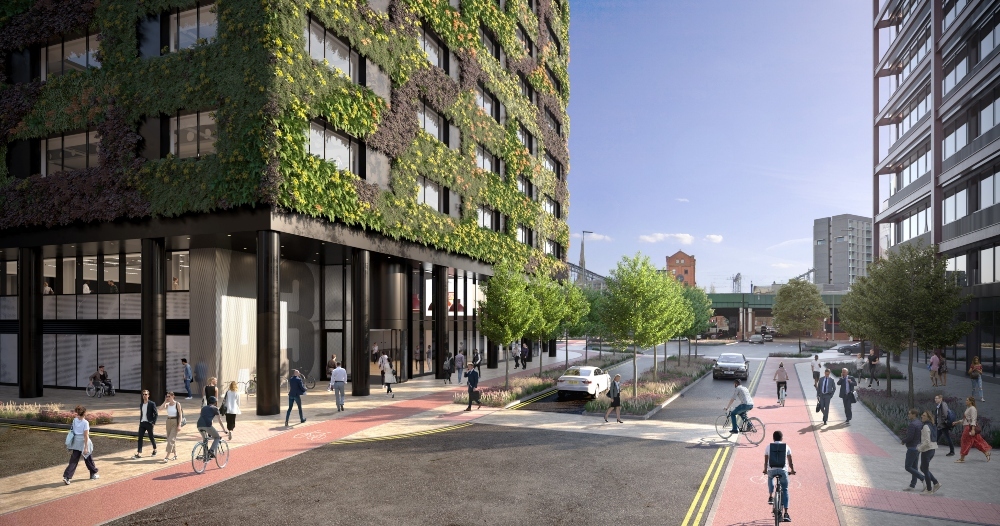 Salford City Council hopes that as a pioneering development, Eden will mark the beginning of a sustainable future for office spaces.
Eden is designed to be the most sustainable office building in Greater Manchester with Europe's biggest green wall façade designed and built following Passivhaus principles. The 43,000 sq ft wall will comprise an array of plants, insect hotels and bird nesting boxes. It will feature 350,000 plants and is intended to provide several environmental benefits.
 Providing 115,000 sq ft of workspace, the 12-storey building was used as one of the UK Green Building Council's examples of what a sustainable office building should be.
Eden will run without any use of fossil fuels. Photovoltaic panels will generate on-site solar electricity, low-energy LED lighting and energy-efficient lifts will be used throughout the building, and high-efficiency air source heat pumps will generate space heating, cooling and domestic hot water.
Rainwater will be harvested in the green wall, and there will be low water use fittings with leak detection to ensure no water is wasted. Eden will also have demand-controlled ventilation with C02 monitoring throughout and enhanced ventilation rates designed to provide more fresh air and meet the latest BCO standards.
Designed to meet the UK Green Building Council net-zero carbon in operation targets, using the Design for Performance standard, it's estimated that Eden will be 40% cheaper to run than a good-quality office and 60% cheaper to run than a traditional Grade A office.
However, it's not all about the technicalities. Eden aims to promote well-being through environmentally conscious development. Eden is designed to prioritise the physical, mental and social health of those who work within it.
Eden will be home to a cycle hub and in-house showers to promote active travel to and from work, as well as lunchtime exercise. It will also host a yoga and contemplation room and a treatment room which facilitate areas of calm. Finally, an on-site café, roof terrace and co-working space will encourage social meet-ups, informal working, events and collaboration.
One important design feature is Eden's fresh air rates and air quality monitoring. The enhanced ventilation and filtration will allow for increased productivity and higher cognitive functions, enhancing the performance of all employees.
Eden will also be a smart workplace, designed for the future. It will be smart-tech-enabled with smartphone touchless access, a tenant engagement app, smart lift operation, smart lockers and a bespoke visitor invitation system. There is also the opportunity to check data on energy consumption, waste and recycling to ensure that every occupier within the building is working to reduce their carbon footprint.
John Searle, Strategic Director of Place Salford City Council says,
"Salford continues to experience significant levels of growth and investment in line with the Council's long-established economic growth and development plans. The focus is now on how we can accelerate the city's development pipeline through new strategic approaches and partnerships dovetailed with tackling the city's grand challenges along the way, including reaching net-zero targets.
"Due to the long-term and ambitious partnerships forged in the city, our private sector partners are already leading the way in delivering environmentally conscious development.
"Eden is a prime example of this, with English Cities Fund bringing forward this ground-breaking design and super-efficient 12-storey, 115,000 sq ft office development at New Bailey featuring Europe's biggest green wall façade and operating solely on renewable energy. It's a truly pioneering and iconic net-zero scheme here in Salford, currently under construction."